INFORMATION FOR THE 2012-2013 SCHOOL YEAR
Warren Township Schools

Township Map

Determining your home school
Access the interactive Google map and VersaTrans>>>
Bus Stop Information
Bus Stop Information for the 2012-2013 school year will be available the week before the school year begins.

SUPPLY LISTS
Please continue to check back for supply lists. Individual school lists should be posted by the end of May.

| | | |
| --- | --- | --- |
| ELEMENTARY | INTERMEDIATE ACADEMY | MIDDLE SCHOOL |
| | | |

For information about your school's dress code/policy, please check the individual school website. This information can be found under the Students or Parents tab.
ATHLETIC PHYSICAL INFORMATION
Every student must have a current physical on file before they can try out and/or participate in any sport. Physical examination is valid for the next school year if a physician signs it on or after May 1st. This policy will not be waived as it is an IHSAA rule. Please click on the link to download a copy of the required <<2012-2013 Athletic Physical Form>>.
The new Concussion Management law goes into effect for the State of Indiana on July 1st. In order to participate in athletics at both the middle school and high school levels in Warren Township, parents must read, sign, and return to the Athletic Office of their school the Concussion Acknowledgement and Signature Form for the 2012-13 school year and beyond. Effective June 1st, 2012, student-athletes will not be allowed to participate (this includes conditioning and practice) in any sport until this form is on file with their school's athletic office. Please click on the link to download a copy of the required <<Concussion Management Form>>.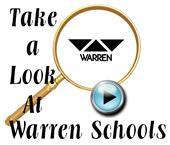 2012-2013 Calendar
2012-2013 Calendar - Spanish
2012-2013 Immunization Requirements
2012-13 Textbook Rental General Information (pdf)
K-8 Textbook Fees (2012-13)
K-8 Textbook Fees - Spanish

High School Course Fees (2012-13)
Free/Reduced Application (pdf)
Free/Reduced Application - Spanish (pdf)

Warren has what you want in a
school district!
If you reside outside the Warren Township school boundaries, you may be eligible to attend Warren Township schools.
Applications will not be accepted prior to June 4th. Incomplete applications will not be accepted. Call 317.869.4300 with any questions.
Access the application information>>>

2012-2013 Student Rights and Responsibilities Handbook (pdf)
2012-2013 Student Rights and Responsibilities Handbook - Spanish (pdf)
Changes to After School Activity Bus Transportation effective with 2012-2013 school year (pdf)>>>