The Metropolitan School District of Warren Township is an urban school district located on the east side of Indianapolis. We serve approximately 11,500 students in grades kindergarten through twelfth grade in a district comprised of nine elementary buildings, three intermediate academies, three middle schools, a high school, and an alternative school. In addition, Warren has an early childhood center and a career center.

8-Step Process
The Plan-Do-Check-Act became the 2002 initiative known as "Closing the Achievement Gap through the Eight Step Process" in Warren Township. The Warren Board of Education, in collaboration with teachers and administrators, challenged the district to increase student achievement for all students. Warren teachers and administrators embraced an instructional process that could create success for all students. The achievement scores tell the story. In 2007 all Warren elementary schools as well as the district made Adequate Yearly Process (AYP). In 2008 the sixth grade ISTEP+ math scores were number one among Marion County schools. In 2010, all elementary schools as well as the district made AYP. This instructional process has become a way of life in our classrooms in Warren.
Pre-School and Elementary Program
Warren offers a comprehensive curriculum and instructional program for students in pre-school through grade 4. Schools offer full-day everyday kindergarten. Art, music, and physical education are included at each school. All buildings are air conditioned and equipped with classroom computers as well as a computer lab. Media Centers provide opportunities for students to explore technology through SmartBoard, iRespond, and production studios. The academic program focuses on state and national standards and student achievement.
Intermediate Academies
Warren Township opened three intermediate academies in the fall of 2010 to serve the students in grades 5 and 6. The intermediate academies are housed in our middle schools yet follow the elementary model. The staff provides engaging learning experiences so that students will develop the skills and knowledge needed to transition from an upper elementary setting into the middle school. Curriculum is aligned with the Indiana Academic Standards and the district instructional calendar.
Middle School Program
Warren Township addresses the unique needs of middle school students in their 7th and 8th grade programs. The middle schools are committed to using instructional strategies and best practices that meet the learning needs and characteristics of early adolescents through core content, music, engineering technology, Spanish and other course offerings. Our middle school students will be provided their own Chromebooks to assist with the development of digital citizenship skills while enhancing and building skills needed to be successful in grades 9-12.
Freshman Academy
The Freshmen Academy opened in the fall of 2003 to assist freshmen students transitioning to high school. Teachers set high standards for a strong foundation of excellence for all Warren Central High School and Walker Career Center students.
High School Program
Warren Central High School students have the opportunity to choose from 650 different course offerings to meet their individual needs, including a growing number of AP and Dual Credit options. Using best practices and technology-rich instruction, teachers set high standards for students by engaging them in applying the ideas and skills that are key to success on state and national assessments.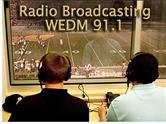 Walker Career Center
The Walker Career Center's goal is that all students will graduate prepared for J.A.M.S. (Job, Apprenticeship, Military, School). All of the programs at Walker Career Center promote students to continue to pursue life-long learning in their post-secondary plans. At this time, the career center offers over 50 college courses where students may earn college credit while taking their high school career and technical education classes. This college credit is at little or no cost.
Technology
Warren is continuing its journey of providing state-of-the-art technology to students and staff. The Technology Goals of the district are: Extend the walls of the classroom by providing online access to homework, class documentation, and study materials; Enhance the use of classroom instructional technologies to engage all students and provide interaction, collaboration, and mobility; Encourage the use of technology integration to support curriculum goals and learning; Increase level of professional development for teachers, staff, and administration to improve technology skills; and Strengthen the stability in core