The MSD Warren Township School Board of Education unanimously approved, on January 11, 2023, an operating referendum seeking voter approval of a $0.30 operating levy referendum rate per $100 of property value. With a $0.30 referendum rate per $100 of property value, an average home in Warren Township would see a $4.79/month increase above current property taxes. The original 2018 operating levy approved by voters was for a rate of $0.21.
On May 2, 2023, registered voters of MSD of Warren Township will have the opportunity to vote on this operating referendum.
MSD of Warren Township currently has the lowest referendum tax rate of any Marion County School Corporation that has passed a referendum. Here is a list of areas that will continue to receive added support if the proposed referendum passes.
School safety and security programs

Teacher and Staff retention and recruitment, professional development and family engagement

Pre-K through Grade 12 student transportation

Student learning, K-12 college and career readiness and K-12 enrichment programs

Student and staff technology programs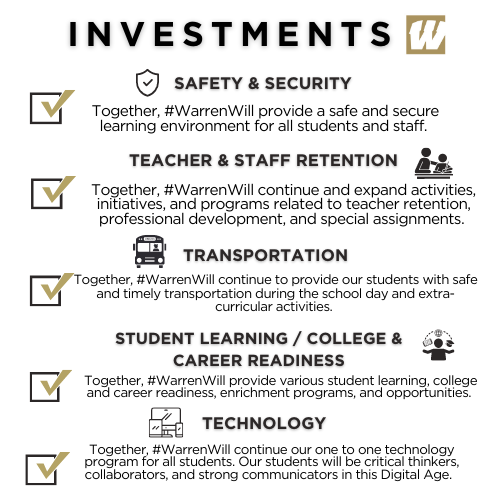 Current Referendum Rates Around Marion County 2022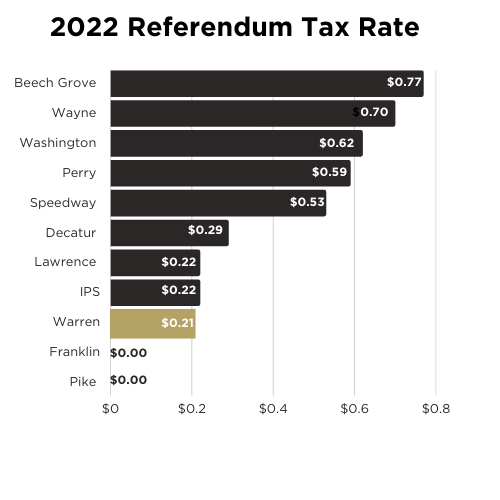 At $0.21 per $100 of assessed value, MSD Warren Township's referendum rate, combining operating and capital referenda, is the lowest in Marion County out of the nine school corporations with a referendum rate.
At $539 per student, MSD Warren Township's referendum fund revenue per student is the lowest among the nine school corporations that have passed a referendum.
Proposed Referendum Rates 2023